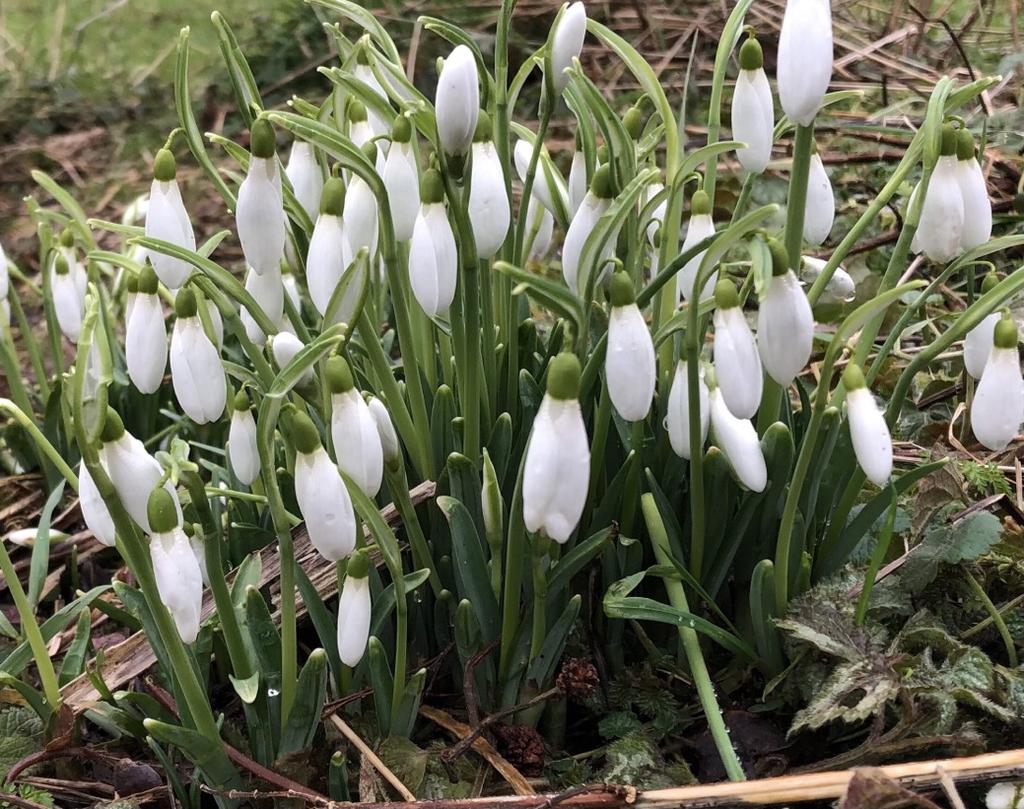 Lockdown Round 3
So here we are again, dear friends.
We thought it right that, following the surprisingly positive response to our 'lockdown newsletters' last year, we should have a follow-up instalment as we all (or at least I) stare at the walls and try to give structure to this strangely incoherent present. I'm not sure that we will be able to add structure, or coherence, to anything but hopefully you will find these ramblings at least a little diverting.
Thank you for all your support for the shop; we really miss you all. We now have our new website where you can buy books of course, but also a select range of our art materials, and see what's in our gallery at the moment. if you feel enthused by any of our thoughts below there are a few links at the end with related books. All of us have become very experienced at sending parcels if you'd like your items posted, or you can click and collect if you prefer. We are at the shop on Tuesdays, Thursdays and Saturdays between 10am and 2pm, so if you want to phone us with your requests, that's the time to do it, otherwise the email is info@whitehorsebooks.co.uk.
Please look after yourselves and we hope to welcome you back to the shop in the not too distant future.
Angus
---
Gabriella: Culture from the Sofa

I really miss going to the theatre. Over these past twelve months I've had a real yearning for live performance, particularly song and dance. The last show I went to see was Motown: The Musical at the Mayflower Theatre in Southampton, 2019. I went with my Dad - both he and I love a big, bold stomping feel-good musical! Motown certainly lived up to those expectations. I cannot wait to walk up the red carpeted stairs of that auditorium again and hear an overture… To make up for the lack of theatre-tripping, it was fun to discover a programme on BBC Four called the Sound of Musicals with Neil Brand. English dramatist, composer, author and superb pianist, Neil Brand, 'explores how musical theatre evolved over the last 100 years to become today's global phenomenon.' Brand has made a few different series of programmes exploring songs, theme tunes and soundtracks, but personally, I find Musicals the most interesting. In each episode, Brand takes a deep look into the inspiration behind famous, as well as less famous musical numbers, carefully deconstructing the different layers of a piece of music and excavating it one bar at a time. This well-researched programme feeds off social history and interviews and explores why certain songs were big hits at the time, but moreover, why they have stood the test of time and remain firm favourites with audiences all over the world. (And for the performers too!) It's well worth a watch, and passes the time nicely on a Friday evening.
Now, Bridgerton. Thoughts? Excited for season 2? I loved it, and it's an excellent tonic. If you haven't yet watched it, but are one for a good period/romantic/costumed drama, then I'd recommend it. Adapted for Netflix from a series of books written by Julia Quinn, this show has been described by one of its creators as a 'modern take on a period drama that resulted in fantasy.' It has a multiracial and multicultural cast portraying many different characters all battling the trials, tribulations and expectations of English high society. The costumes are beautiful, though not totally historically accurate… but, they have been intentionally 're-imagined' to add a strong, visual layer of opulence. It's visually immensely pleasing, and I'm not just talking about the Duke of Hastings. All this gathers together to make Bridgerton a fun, entertaining series. So, park any pre-conceived criticisms to one side and simply allow yourself to be swept up in this steamy, heady Regency ballroom drama.
Anyway, I'm now off to finish watching the new Channel 4 drama It's a Sin by Russell T Davies – truly BRILLIANT.
Gabriella
---
Debby: Deathless Prose

"Please write something for the newsletter" Angus asked me, then reminded, wheedled, nagged, instructed and finally ordered me, while I wriggled and whined and said I couldn't think of anything to write about. Just get on with it, I was told, sternly. So I have dutifully put finger to keyboard, still with no idea what to say. Angus did suggest I write about "things or people I really hate" but as I was mainly hating him at the time (sorry, boss) I thought it wiser not to. Anyway, as I told him, piously, it's bad karma, and I strive at all times to be positive. For some reason this caused him to develop a violent coughing fit.
Sadly though, I do pretty much hate everyone and everything at the moment. Lockdown in January & February is just adding insult to injury. Please be assured, I'm not arguing with the necessity to isolate and reduce transmission of infection, it's just that the usual gloom and drear of the beginning of the year is exacerbated when stuck at home, nowhere to go, nothing to do, and I've eaten all the Christmas Cake. I suppose I should take comfort in knowing that I'm not alone in feeling generally blah. Someone said to me the other day "I've lost my mojo this time round", and I know exactly what she means.
Newspaper and magazine editors are doing their best to perk us all up. January is always Sort Out Your Life time in their world, and this year they're tying themselves in knots, urging us to Be Our Best Selves, while having to acknowledge, with head-on-one-side sympathy, that our choices are limited. Baking is so 2020, darling, Craft is the new lockdown activity. Dust off your sewing machine. Sharpen those drawing pencils (Edwina is still selling a range of art materials for all your creative needs, by the way....) Make your own candles. Embroider a cushion. Why not? I thought, and dug out some knitting needles and wool that I'd forgotten I had. I am very, very bad at all things crafty (in fact I have almost no discernible skills, it's pathetic really). Having remembered how to cast on, and forgotten how to purl (soon rectified, thank you, Google), I am laboriously knitting a few rows at a time, clickety-click, and eventually I suppose I shall run out of wool, and having Googled how to cast off, I'll have a scarf. A feeble, loopy, wobbly edged, holey scarf. I keep dropping stitches, and I know how that happens – rattling away, knit, knit, over confident, then whoops, it all skids off the end of the needle, damnandblast. I'm less sure how I manage to add stitches – I mean, casting on is a positive, pro-active choice, surely. Yet I seem to manage it. And at my back I always hear the faint rumbling sound of my granny, spinning in her grave at my ineptitude. The best thing I can say is that while I'm swearing at the wool and needles I'm not eating Pineapple Jaffa Cakes.
Sunday supplements are also full of ways to stave off time's winged chariot. (Don't eat too many Jaffa Cakes seems to be the first rule.) Apparently 'at my age' it's time I started a regime of clutching a tin of beans and doing bicep curls while waiting for the kettle to boil, and standing on one leg while cleaning my teeth. All this in aid of maintaining upper body strength, and balance, and improving brain function. Alas, I keep forgetting to do either, so perhaps the brain is past it already, oh dear. But obviously I really should try, as the postman brings me leaflets advertising retirement homes almost daily. Someone is trying to tell me something. They all look lovely, I must say, and horribly expensive.
I'm not cheering you up, am I? Sorry. Scratching around for the positives, I can offer you a new series of The Repair Shop on TV, the evenings – well, late afternoons – getting faintly but perceptibly lighter, and my car has passed its MOT, hurrah. The shop continues busy even in lockdown, with our lovely loyal customers – that's you, take a bow – continuing to order books online with our click and collect service. What makes you all particularly lovely is your patience and forgiveness when reduced hours, technological glitches (sorted out now, we hope) and communication breakdowns mean your orders sometimes take a little longer than they ideally should. Or reduced hours, technological glitches and communication breakdowns mean that you are telephoned three times by three different people cheerily telling you "Your book's in". And it's not too late for a New You project, the 12 February is Chinese New Year, so you can start all over again. It's the Year of the Ox, all about hard-working honesty and kindness apparently. Phew. We could use some of that.
Debby
---
Freddie (with some help from Edwina): Paws for Thought

New Year, New Lockdown. No sooner had I got back to work into my lovely routine in the art shop, when Boris did it again.
"We're not going to work today", she said as I stood by the door ready to wriggle into my lovely red harness. I like my red harness everyone says I look cute in it, I love all the compliments I get when she meets people (socially distanced of course) on our walks. I sit down in my cute poise as if butter wouldn't melt in my mouth. I know if I sit nicely a treat will appear when they have run out of things to talk about.
Anyway back to what I was saying.... There was I, looking very forlorn sat by her boots at the front door. "Today Freddie we are going for a walk in the forest, we are going to look for some trees" she said. waving a piece of paper at me. Did I hear right, they are taking me to the forest to look for trees? They've gone mad, covid mad! I'm an expert at finding trees and lamp posts; this is going to be a very short walk.
So off we go, me strutting down the road in my red harness looking cute as ever. We hadn't been out long and we saw my friend Daisy from down the road, with her mum. Whilst the big people chatted, we did the usual, rubbed noses and sniffed each others bits . I told Daisy that I was being taken to the forest to find some trees; she looked just as puzzled as I was. Daisy suggested we run round and see how tangled we could make both our leads. "They" weren't amused as they had to untangle us without getting too close to each other. It was funny, soon stopped their chatting though. Off we went up towards the Savernake Forest. I love the forest because I get to run free, so much excitement, which tree do I greet first. After a while she opens up the piece of paper she was carrying and frowns, I do wish she wouldn't frown it makes her forehead all wrinkly. Andy then suggests she turns the map the other way up if she wants to read it properly. I like Andy.
"This way Freddie," Andy said picking up the pace." Today, we are looking for The True Braydon Oak". I had no idea what he was on about but just ran alongside them until.... I spotted something in the undergrowth, it was grey and it ran very quickly and so did I, after it. I ran and ran and ran. I could hear a voice shouting for me to come back but this was far more fun than finding trees. Then my grey furry friend ran up a tree? Now that wasn't fair. I stood for ages waiting for it to come back down so I could chase it again. It sat high up on a branch looking down at me, Daisy doesn't run up trees when we play chase. "Leave the squirrel alone Freddie" came her voice through the trees, she looked quite flushed all that running about after me. I suppose she only has two legs so it's harder for her.
We carried on walking, occasionally spotting other walkers in the distance. Eventually they stopped and out came the camera. I was bribed with a treat to pose for a photograph in front of the tree. What I couldn't understand was why they had to walk so far to take a picture of a tree; we had passed hundreds on our walk today. "Right", she said, "next one".
I understand that we are trying to find all the named oaks in the forest. I'm sure it would be much more fun to find all the squirrels instead.
From Freddie
---
Kate: The Home Front

So here we are again, writing lockdown letters in the hope that someone will be vaguely amused for five minutes. Isn't lockdown boring?
I am back at the home schooling coalface, with the children constantly ignoring my advice to check whether 3+9 really makes 11, or that 'bird' is spelled with an I. Luckily, I have been spared fronted adverbials, but (unfortunately) we have had to do brackets. I remember helping in a classroom 5 or 6 ago & reading a SATs year 6 practice English paper which came with advice that each piece of writing must demonstrate lots of different grammar and punctuation including brackets. I agree that it's useful to know when and where to use brackets in writing, but I find it very weird that modern children have to shoehorn them into each and every piece of creative writing they do. It's somewhat like saying 'Make the best cake you can manage but it has to contain Swiss meringue whether it complements the flavour or not'.
So I write this as the children and my husband are all engaged with online meetings, and I can hear the teachers and business colleagues communicating to our house over the ether. Sadly this background noise means I can't listen to the radio, and have to get on with my own mundane tasks - cooking, cleaning & washing a.k.a. helping us all stay fit, healthy and alive - accompanied by random snatches of online conversations rather than anything interesting and entertaining. Whilst mopping and wiping I would much prefer to listen in on the Archers of Ambridge (where coronavirus is hardly mentioned and is certainly not getting in the way of life), but instead I get chants of the 4 times table, a discussion on how many degrees in a full circle, and someone bellowing about Net Present Value.
As you may remember from last lockdown cleaning is not my forte, so actually the house is getting dustier and messier what with everyone living in it all the time. The dishwasher is on its knees and the sink drain needs serious remedial action which I might manage once I've finished writing and publishing this drivel. Others are trying to find ways to fill their time - we've sold a few books on chess, origami and wood carving, and also lots of art materials on our new website - but it seems I have barely any time to spare and therefore sadly haven't read many new books. However I can recommend Such A Fun Age by Kiley Reid - an entertainingly written but well thought out book about modern American life, love and race. For children aged 8+ there is Vi Spy: Licence to Chill by Maz Evans, a very funny story of a girl with divorced parents, one of whom turns out to be a super-spy and the other a super-villain! Also for the same age, the fourth in the Explorer Club series by Alex Bell has arrived in the shop, making me very excited as these have all been brilliant so far - superbly imaginative and inventive with a range of lead characters so all readers will find one they can relate to - a recommendation for any child who enjoys Harry Potter. Finally another one for the grownups: The Mermaid of Black Conch by Monique Roffey, a lyrical but punchy Caribbean story which deservedly won the Costa Book of the Year award.
Kate
---
Angus: Time to Cook

I think I might have mentioned before that one positive thing that comes from having more time on my hands is that there is no rush to complete anything. This is true for things that need to be done - but I don't really want to do - as well as the things that I enjoy doing but sometimes feel a need to rush, for reasons I can't fathom nowadays. Right now there is nothing pressing upon my time so I find that I take time enjoying the process for what it is. This is especially true for me when it comes to cooking. I have always loved to cook and do most of the cooking for my family. It is an essential part of my daily routine even when the world isn't shut down and has been a hugely beneficial focus over the last year. However, rather annoyingly, I seem to have forgotten all my triumphs and have failed to generally notate any new creations so they have been lost in the mists of time. I do have some staples that have been with me for a few years, tempered, perfected and not forgotten. So, I thought it might be of interest to share my most reliable and delicious recipe with the world, just his once, so here goes. The bits in italics can be read as asides and therefore ignored, if you wish!
Sausage and fennel pasta or Pappardelle con salsiccia e finocchio
This is my version of a pretty common idea - sausage meat, fennel seeds, tomato and pasta. It is very simple but incredibly rich, delicious, elegant and satisfying. I have a bit of a bugbear about recipes being imprecise so please follow to the letter for the best results! If you don't live in or near Marlborough I apologise for my references to local food sources.
This recipe feeds four people (although I always do it for three so have had to guess the increases a little).
Ingredients
6-8 (at the most) old fashioned pork sausages, skin removed or Italian style sausages if you can get them, skin removed or up to one pack of good quality (Waitrose 1) sausage meat. The range of amount is dependent on the hunger levels!
1 heaped tablespoon of fennel seeds. (The best fennel seeds can be found at Packaging Not Included in Hughenden Yard, Marlborough. In fact Hayley has the best spices of all kinds available anywhere)
2 teaspoons of good quality salt (Maldon for me).
1 tin of good quality tomatoes. ('Cirio polpa' for me, available at, yes, Waitrose). Try never to use chopped tinned tomatoes for anything unless they are very good quality. Ordinary plum tomatoes break down better than pre-chopped. A real Italian chef told me this many years ago and he wan't wrong.
1 glass of white wine. I never use red wine anymore in a pasta sauce as it is deadens the freshness of a sauce.
1 medium onion, chopped reasonably fine. (red is better but not essential)
3 large cloves of garlic, finely chopped.
1 teaspoon of sugar.
2 tablespoons of good extra virgin olive oil, plus more at the end.
Good quality pappardelle - enough for four whatever that means to you! Probably about 350g. Personally I would recommend Giuseppe Cocco from Waitrose. It cooks very quickly and has an elegance about it which you won't get from a supermarket 'fresh' or a cheap dried. You will need to buy two boxes of it if you want to feed four though as one box is perfect for three. The recipe also works perfectly well with penne or the like, if you prefer.
Instructions
First, heat the olive oil in a large pan. I use a large frying pan with high sides as it easier to add the pasta to without difficulty. Add the sausage meat and break it up as you fry. The heat needs to be quite intense. This will take a few minutes. Continue to cook once broken down until it browns and the moisture has evaporated. You will know when this has happened as the frying noise will reduce to a menacing soft burble rather than a noisy cackle.
Whilst this is happening combine the fennel seeds and sea salt in a mortar and pestle and crush. You really want half powder and half full seeds so don't worry about reducing the mixture to dust. Turn down the heat a bit and add to the sausage when it is ready. Give this a minute to combine. Then add the onion and cook for about five minutes and then add the garlic and fry for a couple more minutes.
Now add the white wine and reduce down, but not too much. Then add the tinned tomatoes and sugar. I always add sugar to a tomato sauce! Turn down the heat to medium low and let it cook, stirring occasionally, for about half an hour. It is ready when the tomatoes have broken down and the sauce has thickened. Personally I prefer to leave the sauce slightly less intense than a full reduction would give. Don't let it become jammy, just reasonably smooth but still tasting fresh.
Cook the pasta in loads of water and lots of salt as per packet instructions (about 6 minutes for the one I recommend). When the pasta is ready add at least 3 tablespoons of the cooking water to the sauce and mix in. Instead of draining the pasta I just add it into the sauce and mix, adding a good glug of olive oil. Add a fair few turns of black pepper now also.
You are ready to serve. Under no circumstances should you add parmesan as, if you have done as instructed, there is no need for any extra salt.
Buon appetito! Angus
---
Linked Books - Some Very Tenuous!
If you want to flounce around with the Georgians like Gabriella, try Georgette Heyer. If you also enjoyed 'Its A Sin' read Alan Hollinghurst's The Swimming Pool Library, or non-fiction Ruth Coker Burks' memoir of caring for AIDS victims in America.
To knit with Debby there's a cheerful beginners' book, Hello Knitting!, and another for those feeling the rage - Protest Knits.
Edwina & Freddie use Peter Noble's Savernake Forest Map to find the ancient trees and Esther Smith's Savernake Forest which is a small but comprehensive guide and history.
Kate's book recommendations are Such a Fun Age, The Mermaid of Black Conch, Vi Spy: Licence to Chill and The Ocean Squid Explorers' Club.
And to cook other classic Italian dishes try Italian Food by Elizabeth David or for more up to date recipes, Rachel Roddy's Two Kitchens.