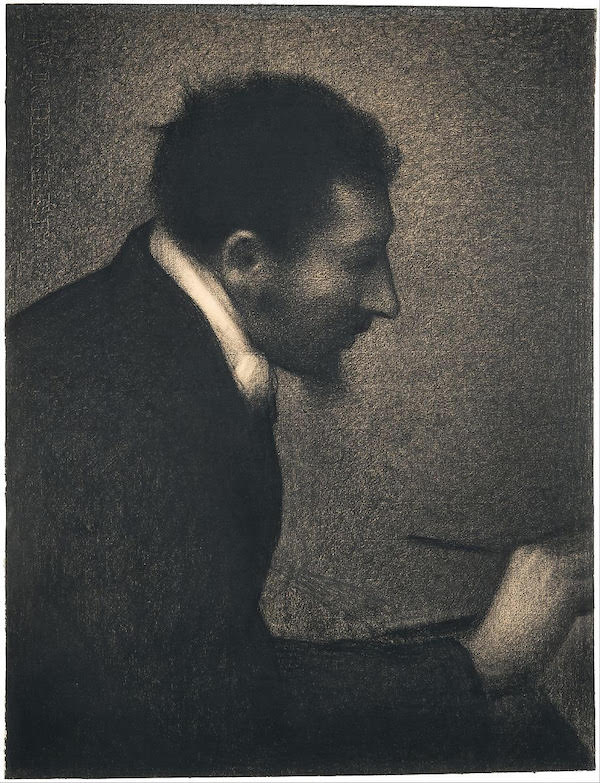 Lockdown Newsletter 2
Hello Everyone,
Welcome to another collection of lockdown musings. I hope that you all remain in generally good spirits. As things have changed so little since we last spoke I thought it of little interest to update you on what we are doing as we would only be reminding ourselves that we have done very little. Instead I thought it might be fun to think upon some things that we would like to do, if we could. So here are five different thoughts on what could be.
If you have managed to reach the end of your 'to be read' pile and really want to get your hands on a new book then you can place single line online orders through the Hive website hive.co.uk. Alternatively we may be able to get it for you from our wholesaler who will post it direct. Should you have such a request then please email us on info@whitehorsebooks.co.uk stating the book, the address to send it to, and a phone number to contact you on to take payment.
Angus
---
Gabriella : Five people I'd like to take on a summer picnic
This is largely based on the lovely memories I have of going on picnics with my mum, dad and our friends who, like us, owned a classic car. My dad had a 1932 Austin Seven called 'Old Joe' and our friends owned a 1928 Austin Chummy known as 'Uncle Len.' Throughout the warm summer months, we would set out in the cars and pootle off down to the New Forest to have a picnic. I remember sitting on the back seat of Old Joe (a surprisingly comfortable leather seat with no seatbelts obviously) wedged between my mum and the creaking wicker basket packed full of scotch eggs, fruit, cheese, bread, and all the other delicious foods and drink you'd expect to have on a summer's day outing.
There are dozens of people I'd love to invite to this picnic, but here are five, both past and present: Dame Judi Dench, Dame Mary Quant, Spike Milligan, Gertrude Stein and Stephen Ward.
I think Dame Judi would like to go on a picnic because, apart from anything else, it will feature two things she loves – trees and champagne. A convivial chat about her extraordinary life on stage and screen would be like opening a window into another world. She is marvellous in every way, and I should like to sit next to her on the rug. On my left shall be Dame Mary. Mary Quant is one of my heroines. I say 'amen' for her dedication, leadership and pioneering work in changing the way young women dressed in the 1960s, and the major influence it has had ever since. As a designer she broke rules and traditions, and as a business woman, she was at the epicentre of a social, sexual and cultural revolution.
As for Spike Milligan, (he'd be resting in a stripy deckchair) I don't think anyone would get tired listening to his war stories, or get bored of his wry and dry Irish wit and humour. Adding to this cultural mix would be Gertrude Stein, (also sitting in a deck chair) and Stephen Ward. Stein would entice, intrigue and astound with her stories, knowledge and gossip of Paris and the artistic circle of which she was ringmaster. And then there's Stephen Ward, lying on the edge of the rug, lighting a cigarette. Where would you begin? So many unanswered questions – how much would he reveal? Would he draw us all? I hope so.
Fancy that. I think it would do nicely.
Gabriella
---
Amelia : Five gardens I would like to be able to visit.
March and April are the time of year when everything in nature is starting to burst forth. Consequently it is the time when all gardeners like to get out into their own gardens and start putting into practice all the plans they had over winter. It is also the start of the "visit someone else's garden" season, to pinch some of their ideas and buy some of their star plants.
1. Wisley – Anytime of year is the perfect time at Wisley, the whole year round they have the best of everything, shown off to the best advantage too. But last Autumn to celebrate the 250th anniversary of William Wordsworth's birth they planted 35,000 daffodils in just one area. Just imagine (no not the back breaking planting) but the wonder of that host in this lovely sunshine. They have also recently planted 140 flowering cherry trees which will be out and looking their best now too.
2. Bowood House woodland gardens. Bowood woodlands lie on a strip of green sand that runs through part of Wiltshire and enables them to grow a wide range of azaleas and rhododendrons, the colours and scents fill the air and senses.According to their website they have over 30 hybrids and make us Marlborough folk sick with envy for our own bit of green sand.
3. Westonbirt Arboretum. Westonbirt Arboretum is famed for its wonderful displays of colour in the Autumn but it is also a great time to visit now for new leaf and flower colour. They have a magnificent display of camellias, magnolias, and rhododendrons not to mention the spring bulbs under planting.
4. Iford Manor. Iford Manor Gardens revels in the stunning landscape in which it lies, as much as the architectural and garden design within the garden. Harold Peto whose name is synonymous with Iford was an architect and designed gardens for many a famous person. The current owners propose to refresh while preserving the gardens – so a must for a visit soon.
5. Great Chalfield Manor & Garden. Having joined the NT this year I must include one NT garden in these day trips from Marlborough! This is a wonderful Arts & Crafts garden with awe inspiring topiaries and lily pond. You can even walk to the Courts Garden, in Holt. But fortunately I went there in March!
Amelia
---
Angus: Five paintings that I would like to have at home (so I could stare at them for hours)
John Singer Sargent - Rehearsal of the Pasdeloup Orchestra at the Cirque d' Hiver
As my portraitist of choice it is perhaps slightly perverse of me to choose this less obvious piece by Sargent (too many portraits of brilliance maybe). I always marvel at his ability to be both precise and relaxed simultaneously. The effortless brushstrokes which show the curve of the space and the delicate, but again perfect, lines of the double bass's perspective. I think the use of monochrome not only echoes the nature of a musical score (as do the patterns of the sheet music and the delicate lines of the brass instruments) but also, somehow, evokes a rhythm and musicality that colour would only have muddled.
Louis-Leopold Boilly - A Girl at a Window
Another monochrome! Hmm...I have no idea why.
Boilly was a hugely successful portraitist and genre painter who survived the turbulent decades in France which spanned the Revolution, Terror and First Republic. I have only seen this picture once, when it hung in the National Gallery all too briefly. I love it for two reasons. Firstly, there is something in the stare of the girl - sad, resigned but also challenging - perhaps even pleading. Secondly I find that the 'super real' nature of the technique actually makes me focus more on the fact that it is paint than if it wasn't, if you see what I mean (although, of course, it isn't trying to be real, rather a monochrome print). Basically, I just find her rather bewitching!
Rembrandt van Rijn - A Woman Bathing in a Stream
Although not mentioned in the formal title this is a portrait of Rembrandt's great, final love Hendrickje Stoffels. If there has ever been a more tender expression of love and devotion committed to canvas then I haven't seen it. It is a scene so intimate, so watchful; an example of total technical mastery used only to let us see what he sees - his love.
Yves Klein - IKB 79
Colour! Hurrah!
Blue is the best. It is both hot and cold; the colour of ice - logical and unemotional; the colour of summer skies, heat and holidays. It is dangerous and fun all at once. And this is really blue. Blue with a capital B.
Klein trademarked this colour (as he created it himself) which seems a little selfish. I would buy it off him if I could as it is the colour that speaks to me more than any other.
Georges Seurat - Portrait of Edmond Francois Aman-Jean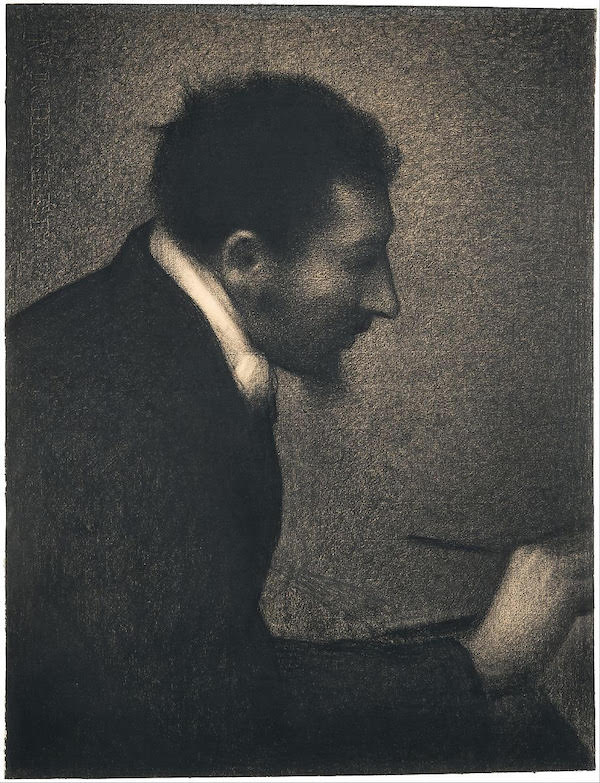 I finish with the picture that I would choose, above all others, if I had to (which thankfully I don't). To be honest I could have chosen one of several of his drawings. If you are not familiar with them then do investigate. They are extraordinary.
I am in awe of the simple beauty of the lines, the contrasts, the extraordinary bulk suggested in the dark mass of Aman-Jean's shoulders and arm, the beautifully subtle tones and, above all, the brilliant white of his collar. Simply sublime.
Angus
---
Debby : Five dead people to invite to lunch (and then five more)
I realise that people who know me might find this hard to believe, but I'm actually fairly shy. It's fine in the shop, where we all have clear roles – You: Customer, Me: Dogged Saleswoman – but a social gathering where I feel I have to pull my conversational weight is a different thing. And yes, I do know that shyness is a form of self-obsession, and nobody's that interested in me. Angus suggested I write about 5 people (dead or alive) I'd like to have pop around for a chat, and I said Yessir, good idea, and then thought Oh help, what will I say to them? So I decided I'd host a fantasy lunch party. They could converse among themselves, while I keep glasses filled and clear plates. (Plates! Nearly four weeks into isolation and I'm eating my meals standing up, straight from the saucepan with a rusty spoon. High time I had some social contact, even imaginary.)
First to arrive, smart, punctual, handsome and brave, is Ernest Shackleton. Be still, my beating heart. His achievement in keeping all his crew alive when the Endurance became trapped in the ice, and the epic feat of rescue are simply astonishing. (The dogs and the cat had to be sacrificed, alas.) The success was mostly due to his impressive ability to manage his men, selecting team members he was confident would work harmoniously together and adroitly separating those he felt might clash. I'll seat him next to Rupert Brooke, who I'm sure will hate it. "The Handsomest Young Man in England" comes across in biographies, and his own poetry and letters as absolutely dreadful. In fairness, he really was a complete psychological mess (ghastly mother), but it's hard to read about his appalling, self-obsessed, self-pitying, manipulative behaviour. Despite it all, and while fully aware of his vast and numerous failings, people continued to love him. Obviously he possessed bucket-loads of that most untrustworthy quality, charm, which has to be experienced in person, hence the invitation.
A A Milne is sitting next to me, because despite my own shyness (and his) I want to apologise to him for Disney(!), for the fact that now he is known almost solely for being the author of Winnie the Pooh (and to thank him for writing Pooh), and for the general impression that he was a sentimental writer. He was a playwright, contributor to Punch, writer of light verse and a committed and vocal pacifist. He probably won't enjoy the party much, but he'll be polite about it. When the meal's over I'll let him take his coffee and watch cricket on TV while I gaze in wonder at my fourth guest, Gene Kelly. Energetic, innovative, a terrifying perfectionist he was also apparently a legendary party giver, so I'm not sure how much he'll enjoy this rather sedate and faintly Edwardian luncheon, but it's my party after all. Shackleton and Brooke will find him alarming, Milne I feel might appreciate him, and I'm hoping that if we push the furniture back he might perform a short routine for us? (Just imagine!)
Lastly, joining us late because she's been in the kitchen, is Elizabeth David (well, I'm not cooking myself). I reckon she'll come up with a menu that everyone will enjoy and which will be better than anything I could produce. I know, gender imbalance and sexual stereotyping, sorry. However, I have rather unexpectedly enjoyed this gathering, so I might do it again, next time all ladies. I'm thinking of inviting Dame Laura Knight, Elsie Widdowson, Dorothy L Sayers and Josephine Baker. The late Michel Roux will cook.
Debby
---
Edwina : Five Places I have been and would like to be now, even just for an hour.
I have been lucky to have travelled quite a bit over my life time. From America, the Caribbean and many European countries so this has really stretched my imagination.
People, who know me well, know I love Lyme Regis on the Dorset Coast. I love to walk along the beaches searching for sea glass and spotting fossils. I am hypnotised by the sounds, movement and colours of the sea. The formation of the Dorset coastline is breathtaking, centuries of history in layers open to the elements .The sea front at Lyme Regis is best appreciated from walking on the pebbly beach. All the buildings are different, there's even a thatched cottage there, not what you expect. As the car descends down the hill into Lyme I always try to be the first to say "I can see the sea!", even at my age it still thrills me. After a days walking we always award ourselves a delicious ice cream from a shop on the front. I love to climb onto the Cobb and walk along the high wall, feeling the spray from the waves splashing .If I had to live anywhere in the world other than Marlborough it would be Lyme Regis.
Beer is a beautiful unspoilt village, also on the Dorset Devon coastline, with a very small beach where fishermen bring in their daily catch, it's a great base to explore the South West Coast. Beer is home to Marine House Art gallery, from where Andy bought my Mike Bernard painting. Every evening when the gallery was closed I would press my face against the gallery window, trying to look at the paintings; I had narrowed my choice down to two. After a week, my choice was made. The painting is now positioned above my fireplace in my living room, we both agree a good choice.
We were on holiday in Beer in 2012. After a days walking and a delicious meal out we returned to the cottage we were renting and sat down and watched the ten o'clock news. The Olympic torch was being carried through Marlborough; the camera followed the man carrying the torch and into view came the White Horse Bookshop. Upstairs in what was the old art shop window stood my work colleagues cheering and waving, I smiled and waved back.
Probably one of my favourite walks is Beer to Branscombe. If you like a good hike with spectacular coastal views it is a must, challenging but well worth it, Once in Branscombe you can have lunch at the Sea Shanty on the beach or wander into the Masons Arms in the village, both are lovely. We have done this in all Seasons and it's a great walk.
Hengisbury Head, an almost unspoilt beach, close to Christchurch in Dorset. We discovered it after taking the little boat from Mudeford on a day out. Once you have walked through the beach huts you arrive on the most beautiful soft sand, you could be anywhere in the world, it's like paradise. We have enjoyed many delicious meals at the Boathouse which is a haven after a good walk. Not a place to go in high season as that unspoilt feeling suddenly vanishes. Always check the boat times and they are running all day as once we took the boat over, had a lovely lunch, a very long walk only to return to the quay to see a sign saying "Boats not running today" it was a very very long walk back to Mudeford .
The Palace Hotel, Babbacombe Road, Torquay. It was 2009, it was the first holiday with my partner Andy, we had a week in this old and a "Bit Tired" hotel in Devon, the carpets may have been a bit threadbare and the decor from a bygone era, but it was lovely. We were spoilt and had a garden view room which overlooked the amazing 25 acres of gardens which were stunning. The rooms in "their heyday" were probably considered luxurious and modern, with their trouser press and radio fitted into the bed headboard. It was old and charming, not modern and pretentious like some hotels nowadays. The hotel had a rich history and mature clientele, who probably had been visiting every year since the word dot, enjoying the ambience .Guests would dress for dinner in their Sunday best, be escorted to their table by the maitre de, and listen to the pianist who quietly played . Desserts were served from a wobbly dessert trolley which would be wheeled round the beautiful dining room, parked beside your table to tempt you, several treats lay before us. Sherry Trifle, Black Forest Gateaux to name but a few alternatives to the large bowl of Fresh Fruit Salad. It was so nice, polite and away from it all. There was no reception for mobiles at the palace, you had to walk down the road to get a signal, and we weren't bothered we were on holiday. I'm not into social media so leaving the phone in the bottom of my rucksack for the week seemed the most obvious thing to do.
On the drive home all we could hear on the radio were Michael Jackson songs, I presumed it must be his birthday. Sadly he had died and the world had been waking up for the last week to daily reports of why and when questions about the singer. We hadn't known a thing, we were on holiday. We never put the tv on in our room or heard a radio. Newspapers were in the reading room in the hotel, but we hadn't bothered. Life went on without us whilst we were on holiday.
We made several more nostalgic visits over the years to The Palace. The carpets still frayed, the old lift still taking a while to transport one person at a time and the sweet trolley a bygone memory. In 2017, the hotel served its last cream tea and closed its door to the regular visitors who enjoyed this quintessentially English hotel. Apparently earlier this year the bulldozers moved in to make way for a luxury modern spa hotel. It was reported in the media that a Fragrance company from Singapore had fallen in love with it so bought it, to destroy it? Take me back to the table for two at the Palace and the joys of the English Riviera. Steer the dessert trolley towards my table and let me sit and decide.
Sadly, I would have to have Dr Who's Time Machine to re-live a visit to my last chosen place.
If I could have just one hour walking the cliff path in Port Erin in the Isle of Man with my dad again, I would jump at it. It was probably over thirty years ago when my love of walking along the coastal paths started. It was walking the cliff path above Port Erin than sparked my love of the sea. Appreciating the unspoilt views, the sound and smell of the sea.
Family holidays visiting my parents in the Isle of Man meant morning walks with my dad and his dog. Just me and him. We would walk across the golf course, sometimes annoying Nigel Mansell if he was on the fairway playing, I don't think he liked walkers.
We then crossed the road and took the coastal cliff path which meandered around the cliffs. My dad would point out where the ruined "sea filled" swimming pool that he remembered swimming in as a child had once been. Broken blue brickwork with faint markings saying Girls and Boys could just about be read, showing where the changing rooms had been. .Large tanks had been positioned where the fun filled pool once stood, according to my dad a fish farm was trying to make a living, he doubted it would last. It marred the view of the long gone swimming pool. He would just shrug and we would walk on.
My dad told me the same story each summer, we visited.
When my dad was 80 I took him back to The Isle of Man, to visit old haunts and catch up with old friends. We walked the cliff path again, at a much slower pace. He pointed out the Swimming Pool and told me about his childhood swimming there. I just smiled.
Ten years ago my dad passed away.
I had a special trip to make. Many, many years ago my dad asked me to take him back to the island when he died, I always said I would, but never thought about it. So Andy and I took him back and laid him to rest overlooking the sea, near Port Erin. In his memory we walked the coastal path above Port Erin. I pointed out the swimming pool and told Andy about how my dad had swum there as a child.
Love from Edwina