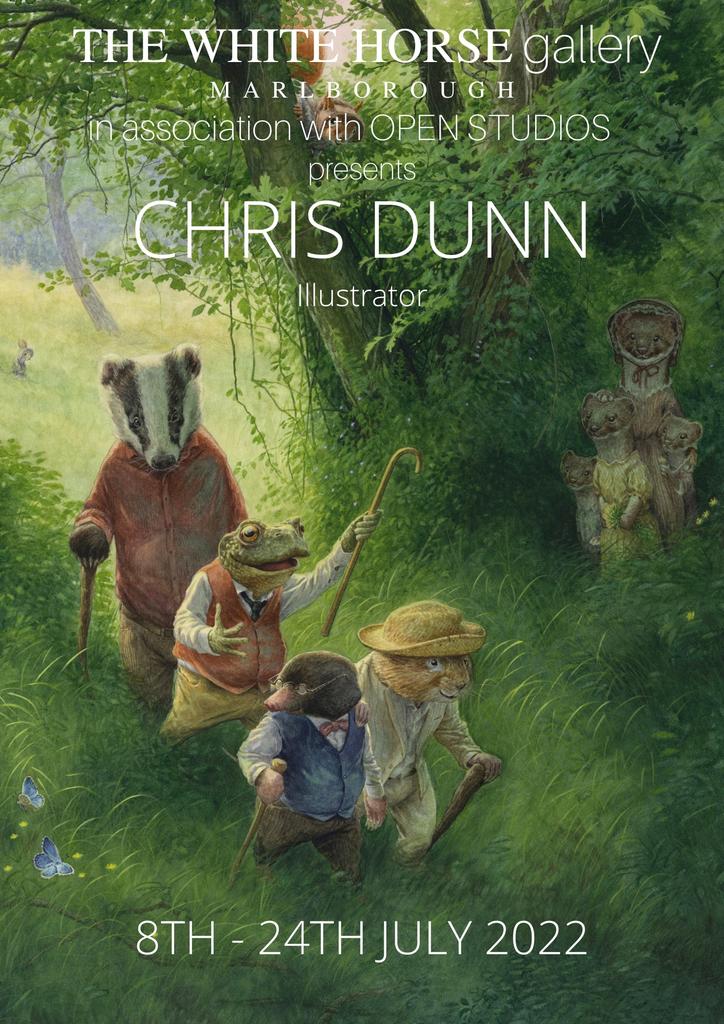 Chris Dunn Illustrations
The White Horse Gallery is delighted to present its latest exhibition,
artworks by illustrator Chris Dunn.

Chris Dunn is a watercolourist, specialising in traditional children's book illustrations.
He has illustrated famous literary works such as The Wind in the Willows and The Night Before Christmas. His characterful paintings are not only exquisitely executed, but are brimming with imaginative storytelling and adventure. His attention to detail allows for close, repeat viewings as you are guaranteed to have missed something you didn't spot before!

Chris' influences stem from artists and writers such as Beatrix Potter, Arthur Rackham and Norman Rockwell . His illustrated books have been translated into multiple languages, and his original artwork is collected worldwide.
Chris' exhibition at The White Horse Gallery is in association with Marlborough Open Studios. Chris will be be in residence at The White Horse Gallery (Studio 14) on the following weekends in July, working on a series of new Redwall book covers:
July 9th: 11am - 5pm
July 10th: 11am - 4pm

July 16th: 11am - 5pm
July 17th: 11am - 4pm

July 23rd: 11am - 5pm
July 24th: 11am - 4pm

The exhibition will be open from Friday 8th July - Sunday 24th July


We hope to see you there!
Chris Dunn's website: https://www.chris-dunn.co.uk/
Marlborough Open Studios website: https://www.marlboroughopenstudios.co.uk/